Ride on over - sit a spell and let me tell you a bit about Gammy's Antiques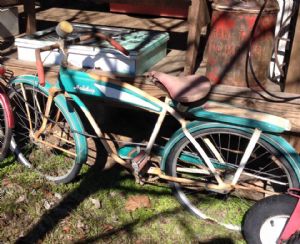 Gammy's Antiques & More opened for business on July 1, 2015 in the small rural community of Newhope, Arkansas. The store resides in a wood frame house built in approximately 1902. Many of the current Newhope residents have fond memories of the little white house where they, along with their relatives, either lived or visited at one time. In refurbishing the house, Gammy's Antiques & More has attempted to honor and retain the memories and charm of generations past.
Gammy aka Vicki Cornett is a lifelong collector and admirer of all things vintage, antique and old. The opening of Gammy's Antiques & More is a culmination of a lifelong dream to open her own store. A graduate of Texas A & M University – Texarkana, Vicki earned a Bachelor of Arts & Applied Science degree. Additionally, she holds a Professional-level "Certification" status as a Certified Appraiser within the field of antiques and collectibles from the Asheford Institute of Antiques.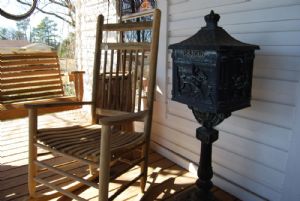 OUR SELECTIONS
Gammy's Antiques & More has a large selection of antique, primitive and vintage finds, as well as architectural salvage items and vintage signs. Below you will find a sampling of items in our store; however, the list is not inclusive as our inventory changes daily.
• Antique, vintage and primitive furniture
• Antique and vintage decor items such as mirrors, books, pictures, dishes, toys, etc.
• Architectural salvage items such as wood doors, windows, shutters, iron gates, etc.
• Rustic signs including advertising, gas and oil, Coca Cola memorabilia, etc.
• Vintage and primitive musical instruments and sheet music
• Vintage quilts and linens
• Additionally, we carry new items produced locally such as
Vignettes Chalk-Style Paint,
Prairie Rose Diamond Candles & Melts,
Raining Manna Goat Milk Soap & Lotion,
Karen's Krochet Headbands & Slippers,
and Sew Sisters Quilts.
WE BUY FROM YOU
Gammy's Antiques & More is constantly in the market for new items for our customers. If you have something you think we may be interested in buying, please call to set up an appointment to meet with one of our buyers. You are encouraged to follow the following procedures:
• Gather and/or create a list of items you wish to sell.
• Determine your asking price. We encourage you to conduct your own research; however, please note that your asking price may differ from our offer. We are unable to offer full retail value for items.
• Schedule an appointment to visit the store. Please bring photos of each item. We may ask you to bring the actual item in later for review and discussion.
• For large items, large amounts of items, or liquidation of an estate, we may schedule a time to come to your location.
APPRAISAL AND CONSIGNMENT SERVICES
Gammy's Antiques & More offers both appraisal and consignment services. Please call to schedule an appointment to discuss procedures and terms.